Hi all! Today's post will feature How I Store My Makeup Palettes. I've seen this idea before on YouTube and other blogs, but never tried it myself. It's proven to not only be a cute way to store makeup, but also very functional as I find myself reaching for palettes often.
I previously stored them all in my Alex 9-Drawer from Ikea. It worked, but I felt like I was neglecting many because I couldn't see them all. I was at Marshall's with my good friend Jen (Hi Jen!) the other night and I came across this letter sorter. My first thought - wow this would be great for my eyeshadows!
This letter sorter only cost me $12.99 so it wasn't breaking the bank. The letter sorter has a nice cardboard-esq feel to it.... definitely not junkie. The dividers fit my palettes of different sizes and shapes perfectly. I also really like the design inside too! It's from the brand "Hold Everything" which is apparently a discontinued line from William Sonoma.
Here's what it looks like:
Since this is no longer made (unless you can find this at your local Marshall's) I did some investigating and found ones similar! There aren't as many dividiers, but I'm digging the bright colors.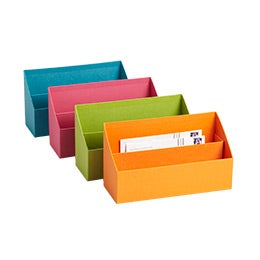 Bright Stockholm Letter Sorter
Where to find:

The Container Store


Link Here
How much: $9.99
I'm really happy I found this! I'm always looking for new makeup storage ideas and tips. So, how do you store your makeup?
Thanks for reading,
Carly